Qu'en est-il du lien entre mythe et fiction ? Réflexions à partir de l'ethnographie des Aranda (Aborigènes australiens)
Abstract
RésuméQu'en est-il du lien entre mythe et fiction ? Réflexions à partir de l'ethnographie des Aranda (Aborigènes australiens). – Afin de cerner le rôle social de la fiction dans les sociétés occidentales contemporaines, M. Moisseeff propose d'adopter une perspective culturelle comparative. En effet, si comme le rappelle Jean-Marie Schaeffer, la compétence fictionnelle est initiée au cours des interactions précoces entre l'enfant et les adultes amenés à s'occuper de lui, les études transculturelles ont permis de repérer des différences structurelles significatives dans la forme de ces interactions que l'auteur met en rapport avec les modes de sociabilité privilégiés dans deux types de contextes culturels : d'une part, les sociétés occidentales actuelles où l'écrit occupe une place fondamentale et, de l'autre, les sociétés à tradition orale. Et pour mettre en évidence le rôle spécifique qu'a aujourd'hui la fiction en occident, elle le met en perspective avec le processus à l'oeuvre dans la création de certains récits mythiques chez les Aranda, un groupe aborigène de l'Australie centrale. L'auteur est ainsi à même de montrer que, si oeuvres mythologiques et fictionnelles sont des productions culturelles ayant pour vocation d'être partagées, la forme et la fonction de cette mise en commun des connaissances ont partie liée avec les modes de médiation relationnelle propres à une société donnéeMots-clés : Mythe ; Fiction ; Interactions précoces ; Aborigènes australiens ; Aranda ; Espace transitionnel ; Objet transitionnel ; Activité onirique ; Cosmologie ; Rite. AbstractOn the Relationship between Myth and Fiction:an Approach Based on Aranda (Australian Aboriginal) EthnographyThe author adopts a comparative cultural perspective in order to grasp the social role played by fiction in contemporary Western societies. As Jean-Marie Schaeffer reminds us, fictional competence stems from a child's early interactions with care-givers. However, cross-cultural studies have identified significant structural differences in how these interactions take place. The author relates these differences to the divergent modes of sociability obtaining in two types of cultural contexts: present-day Western societies in which literary traditions have become central on the one hand, and societies with an oral tradition on the other. The current role of fiction in the West is compared with the processes at play in the creation of mythical narratives among the Aranda, an Aboriginal population of Central Australia. The author shows that whereas both mythological accounts and fictional works are cultural products made to be shared, the form this pooling of knowledge takes, and the functions associated with it, are closely connected with the modes of relational mediation characteristic of the society concerned.Key words: Myth; Fiction; Early childhood interactions; Australian Aborigines; Aranda; Transitional space; Transitional object; Dreaming; Cosmology; Ritual
References
BROUGERE, Gilles, 2005, Jouer/Apprendre, Economica : Paris.
CHARLESWORTH, Max, Howard MORPHY, Diane BELL et Kenneth MADDOCK (éds), 1984, Religion in Aboriginal Australia: An Anthology, University of Queensland Press: St. Lucia.
COLE, Michael, John GAY, Joseph A. GLICK, et Donald W. SHARP (éds), 1971.The cultural context of learning and thinking: An exploration in experimental anthropology, Basic Books : New York.
DUSSART, Françoise, 2000, The Politics of Ritual in an Aboriginal Settlement, Smithsonian Institution Press: Washington-Londres.
GEERTZ, Clifford, 1983, Local Knowledge: Further Essays in Interpretive Anthropology, Basic Books: New York.
LAMBERT, Paula, "Pistes de réflexion sur l'objet transitionnel en Afrique de l'Ouest", Devenir, Vol. 8, n°3, 1996, p. 21-35
LANGLET I. et S. BRÉAN, "Éditorial", ReS Futurae [En ligne], 2, 2013, mis en ligne le 16 octobre 2012. URL : http://journals.openedition.org.inshs.bib.cnrs.fr/resf/320
LEVI-STRAUSS, Claude, 1962, La pensée sauvage, Plon : Paris.
MOISSEEFF, Marika
"Les objets cultuels aborigènes ou comment représenter l'irreprésentable", Genèses 17 : 4-32.
Un long chemin semé d'objets cultuels : le cycle initiatique aranda, Éditions de L'EHESS (Coll. Les Cahiers de l'Homme) : Paris.
"La remémoration spatiale des emprunts culturels : une alternative à leur hiérarchisation historique", in M. Espagne (éd.), L'horizon anthropologique des transferts culturels, Revue germanique internationale 21 : 85-104.
"La procréation dans les mythes contemporains : une histoire de science-fiction", Anthropologie et sociétés, 29 (2) : 69-94
a "Nous n'avons jamais été humains. Le néotène, les chimères et les robots", in S. Gruzinski (éd.), Planète métisse, Musée du Quai Branly/Actes Sud, Arles : 152-165.
b "One initiated woman is worth… two : From Polynesia's 'Island of Women' to America's Alien", in S. Dunis (éd.), Sexual Snakes, Winged Maidens and Sky Gods: Myth in the Pacific, An Essay in Cultural Transparency, Éditions Haere Po, Pape'ete : 141-154.
a "Relations, rites et cheveux chez les Aranda", in D. Karadimas (éd.), Poils et sang : un imaginaire de la vitalité, L'Herne, coll. 'Cahiers d'Anthropologie sociale' 6, Paris : 131-147.
b "Au coeur du système hiérarchique occidental : l'évolution biologique", in A. Iteanu (éd.), La cohérence. Mélanges en hommage à Daniel de Coppet, Éditions de la Maison des Sciences de l'Homme, Paris : 341-368.
c "Les représentations de la procréation dans la science-fiction : de nouveaux supports narratifs pour 'penser' les identités", in K. Slavova et I. Boof-Vermesse (éds), Gender / Genre. Genre / Genres, St. Kliment Ohridksi University Press, Sofia : 129-143.
d "Пришълецът, или ужасът от раждането в съвременната западна митология", in M. Kirova et K. Slavova (éds), Identities in Transition: Gender, Media and Popular Culture in Bulgaria after 1989, Polis, Sofia: 237-255
"L'Objet de la transmission : un choix culturel entre sexe et reproduction" in K.-L. Schwering (éd.), Se construire comme sujet entre filiation et sexuation, Erès, Toulouse : 47-76.
"Aliens as an Invasive Reproductive Power in Science Fiction", in K. Daskalova et K. Slavova (éds), Gendering Popular Culture: Perspectives from Eastern Europe and the West, Polis, Sofia: 239-257.
"Le mort, ses proches et les autres : ici et ailleurs" in Anna Caiozzo (éds), Mythes, rites et émotions, les funérailles le long de la Route de la soie, Honoré Champion, Bibliothèque des religions du monde 3, Paris : 29-48.
"Setting Free the Son, Setting Free the Widow: Relational Transformation in Arrernte Life-Cycle Rituals (Central Australia)", Anthropological Forum, 27 (1) : 34-48.
a "L'inscription spatiale du Rêve : un art de la mémoire et de l'oubli chez les Aranda du désert central australien", in A. Berthoz et J. Scheid (éds), Les arts de la mémoire et les images mentales. Réflexions comparatives, Éditions du Collège de France, Coll. 'Conférences', Paris : 177-194.
b "Jouir ou se reproduire ? Les voies d'autonomisation de l'individu et leurs ressorts idéologiques", Entretien avec Marika Moisseeff par Emmanuel de Vienne, Terrain [En ligne], Portraits, mis en ligne le 20 février 2018,
URL : http://journals.openedition.org/terrain/16581
c "Extraterrestrial Pregnancies and Nasal Implants: A Mythologization of Biopower?", in Б. Пенчев et al. (съст.), Литературата : удоволствия и предизвикателства, Юбилеен сборник в чест на проф. Милена Кирова, Университетско издателство, Св. Кл. Охридски : София, 129-141.
MUNN, Nancy, 1970, "The Transformation of Subjects into Objects in Walbiri and Pitjantjara Myth", in R. Berndt (éd.) Australian Aboriginal Anthropology: University of Western Australia Press, Nedlands : 141-162
MYERS, Fred, 1986, Pintupi Country, Pintupi Self. Sentiment, Place and Politics among Western Desert Aborigines. Smithsonian Institution Press/Australian Institute of Aboriginal Studies: Washington/Canberra.
NORENZAYAN Ara, Incheol CHOI et Kaiping PENG, 2007, "Perception and Cognition", in Shinobu KATAYAMA et Dov Cohen, Handbook of Cultural psychology, Guilford Press, New York: 569-594
POIRIER, Sylvie.
"Cosmologie, personne et expression artistique dans le désert occidental australien", Anthropologie et Sociétés, 16 (1) : 41-58.
Les jardins du nomade, Lit Verlag et CNRS : Münster et Paris.
RABAIN-JAMIN, Jacqueline, 1989, "Culture and early social interactions. The example of mother-infant object play in African and native French families", European Journal of Psychology and Education 4: 295-305.
RABAIN-JAMIN, Jacqueline, 1994, "Interactions sociales précoces et contexte culturel. Les unités de comparaison", in M. DELEAU et A WEIL-BARAIS (éds), Le développement de l'enfant. Approches comparatives, PUF, Paris : 211-222.
RABAIN-JAMIN, Jacqueline et Wendy L. WORNHAM, 1990, "Transformations des conduites de maternage et des pratiques de soin chez les femmes migrantes originaires d'Afrique de l'Ouest", La Psychiatrie de l'Enfant, XXXIII (1) : 287-319.
SCHAEFFER, Jean-Marie (1999), Pourquoi la fiction ?, Seuil : Paris.
SCHIEFFLIN, Bambi B., (2005 [1990]), The Give and Take of Everyday Life: Language Socialization of Kaluli Children, Wheatmark : Tucson.
SPENCER, Baldwin S. et Francis J. GILLEN, 1927, The Arunta, MacMillan: Londres.
STANNER, W.E.H., 1966, On Aboriginal Religion. Oceania Monograph 11, University of Sydney Press: Sydney.
VERNANT, Jean-Pierre, 1982, Mythe et société en Grèce ancienne, François Maspero : Paris.
WINNICOTT, Donald W., 1975, Jeu et réalité. L'espace potentiel, Gallimard : Paris.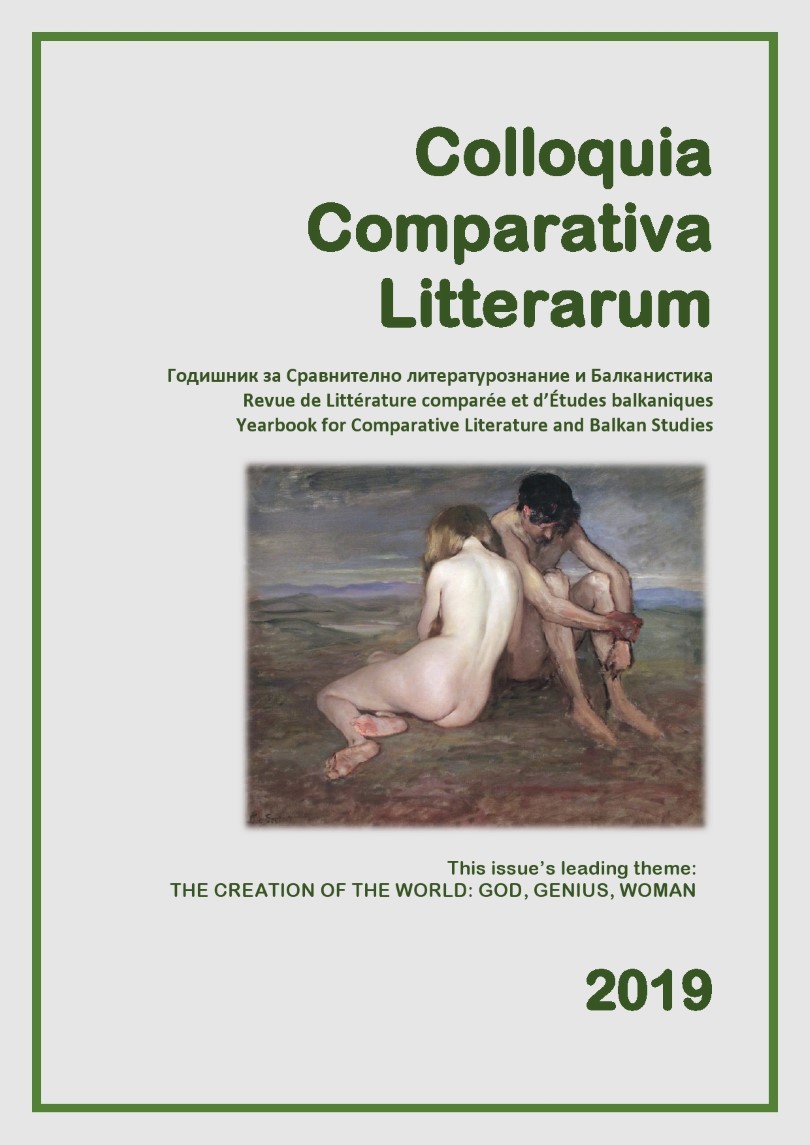 Downloads
Section
I. THE CREATION OF THE WORLD: GOD, GENIUS, WOMAN. Comparative research on literature and ideology
License
С изпращането на статията си за публикуване в Colloquia Comparativa Litterarum всеки автор автоматично отстъпва безвъзмездно правата за публикуване на текста си, на езика, на който го е предоставил. Редакцията има право да осъществи издателското оформление, без да се консултира с автора. За препечатване е необходимо да се потърси разрешение от редакцията на Colloquia Comparativa Litterarum. Авторът носи пълната отговорност за съдържанието на текста си.
En soumettant son article à Colloquia Comparativa Litterarum, chaque auteur lui cède automatiquement et gratuitement ses droits d'auteur dans la langue dans laquelle il l'avait fournie. Le Comité de rédaction a le droit de réaliser la mise en page sans consulter l'auteur. Pour une réimpression il est nécessaire d'obtenir la permission de Colloquia Comparativa Litterarum. Les textes et leur contenu relèvent de la seule et entière responsabilité des auteurs.
By submitting their article for publication in Colloquia Comparativa Litterarum, authors automatically grant the rights to publish their text in the language in which they have provided it free of charge. The editors have the right to carry out the publishing layout without consulting the author. For reprinting, permission is required from the Editorial Board of Colloquia Comparativa Litterarum. Authors are solely responsible for the content of their texts.